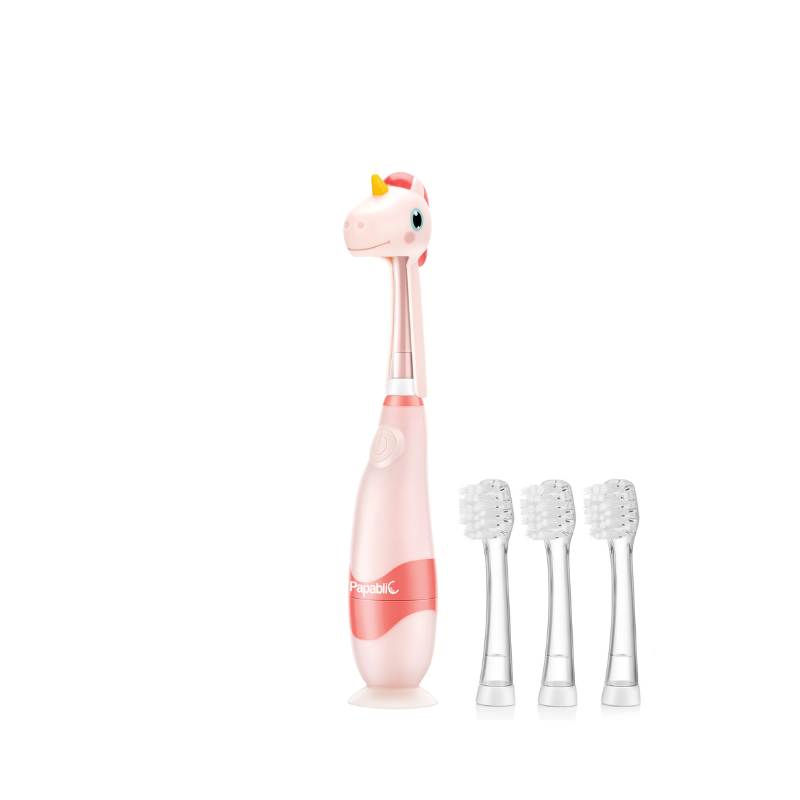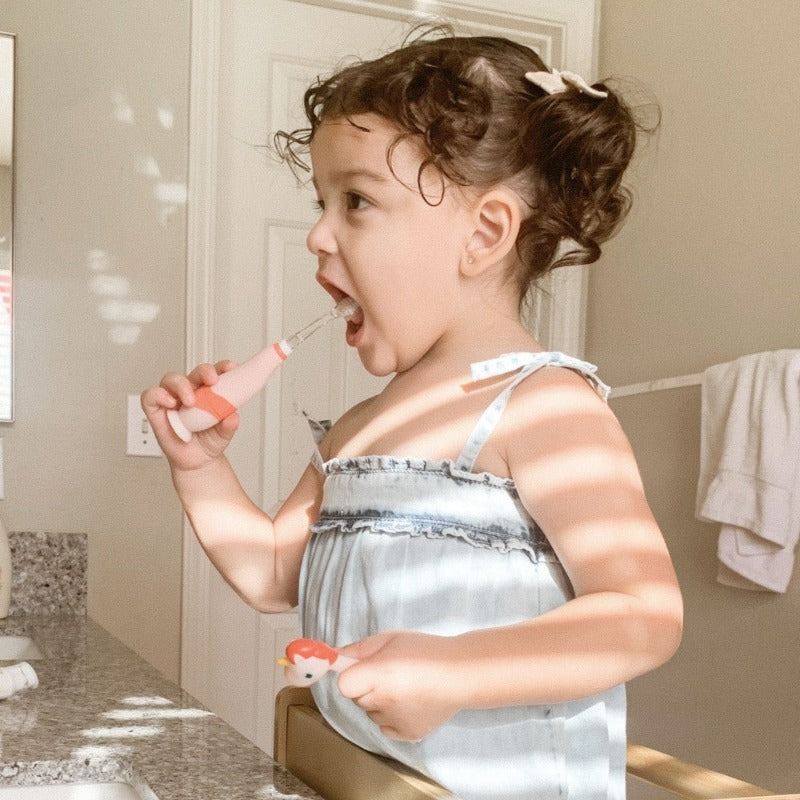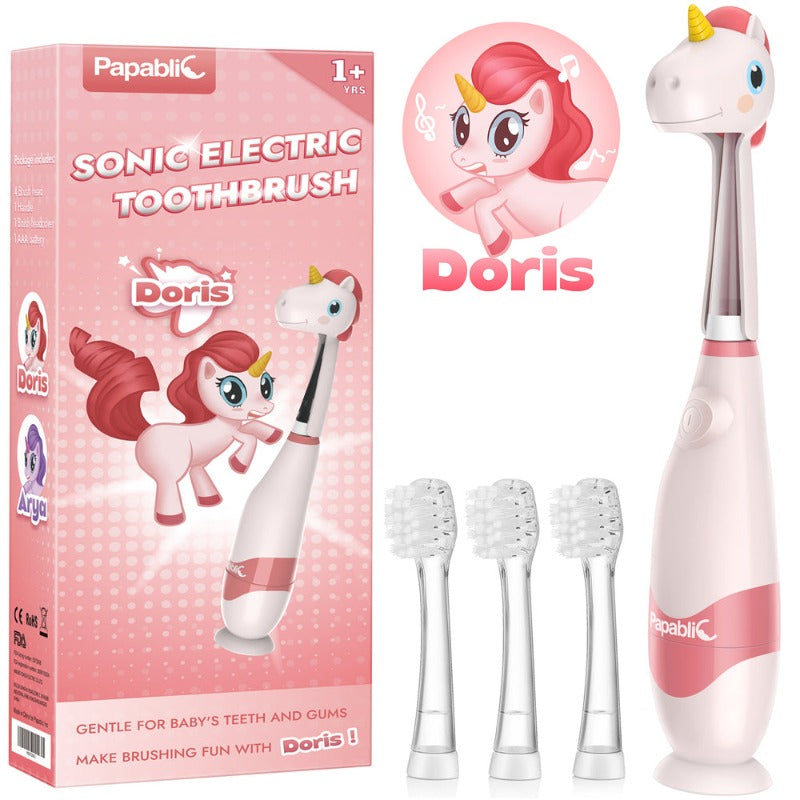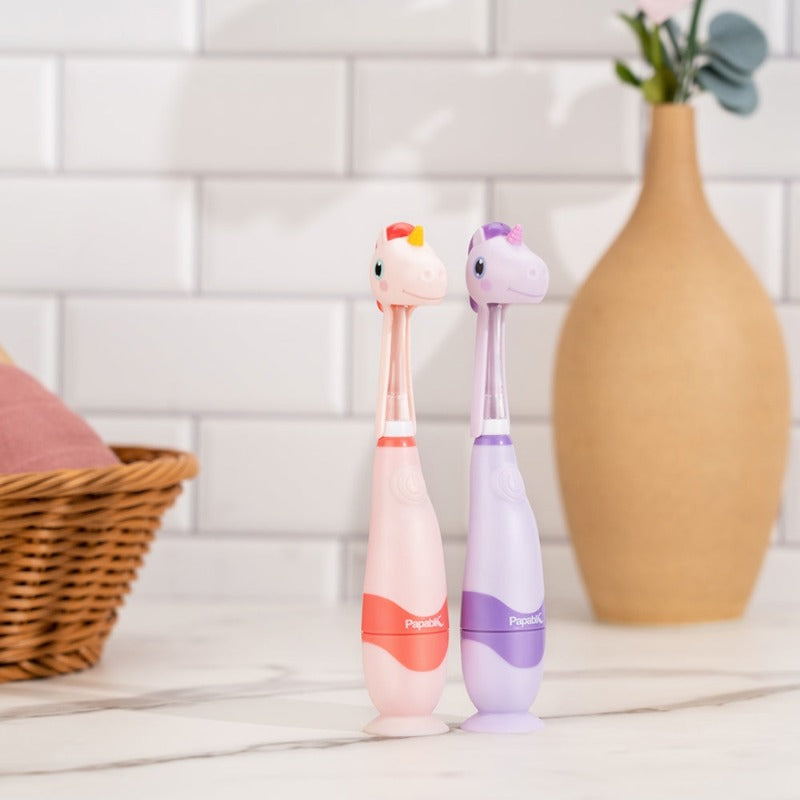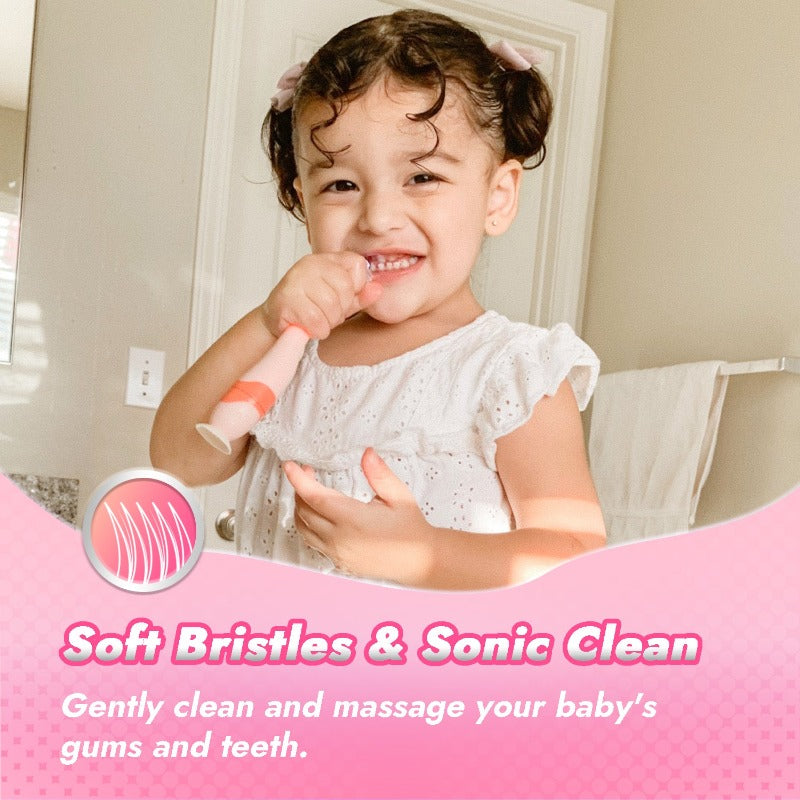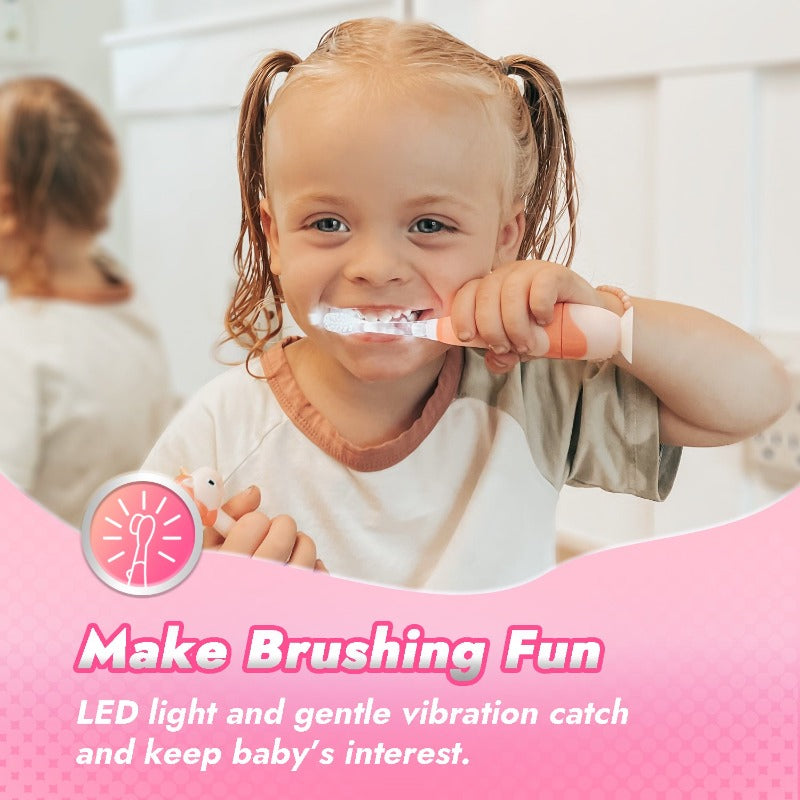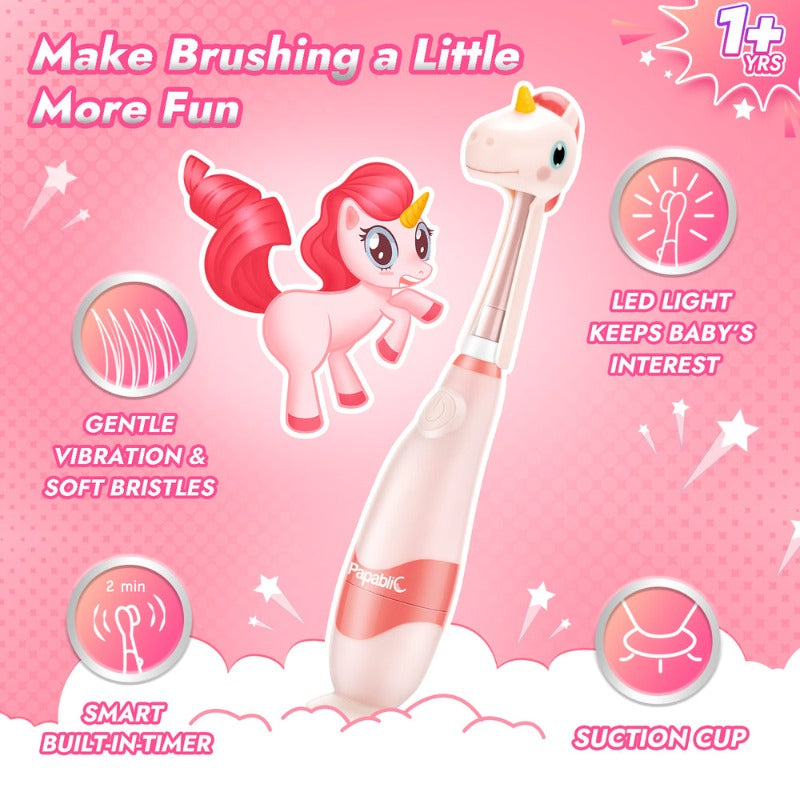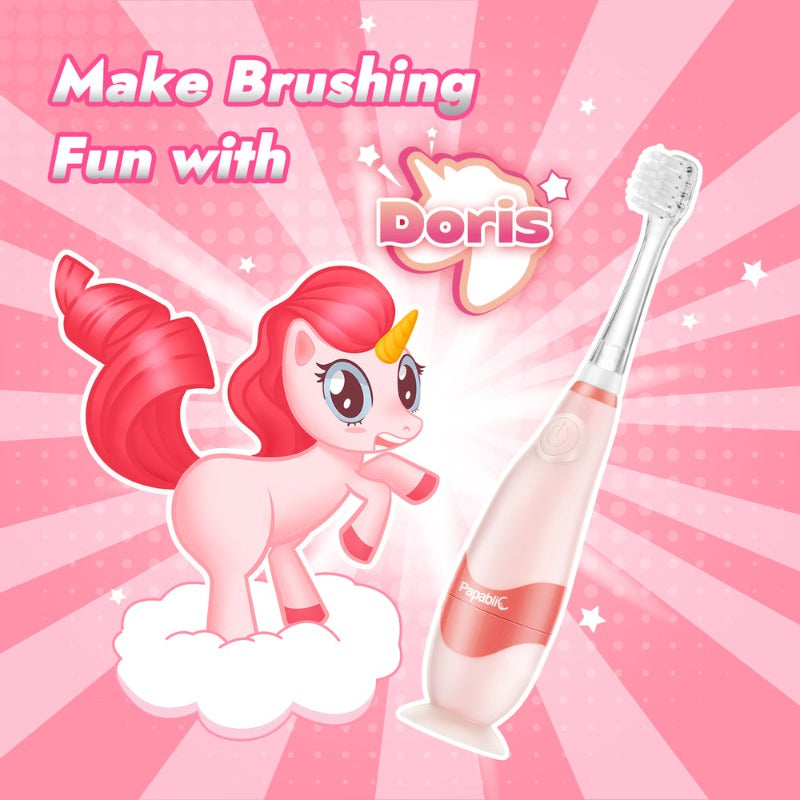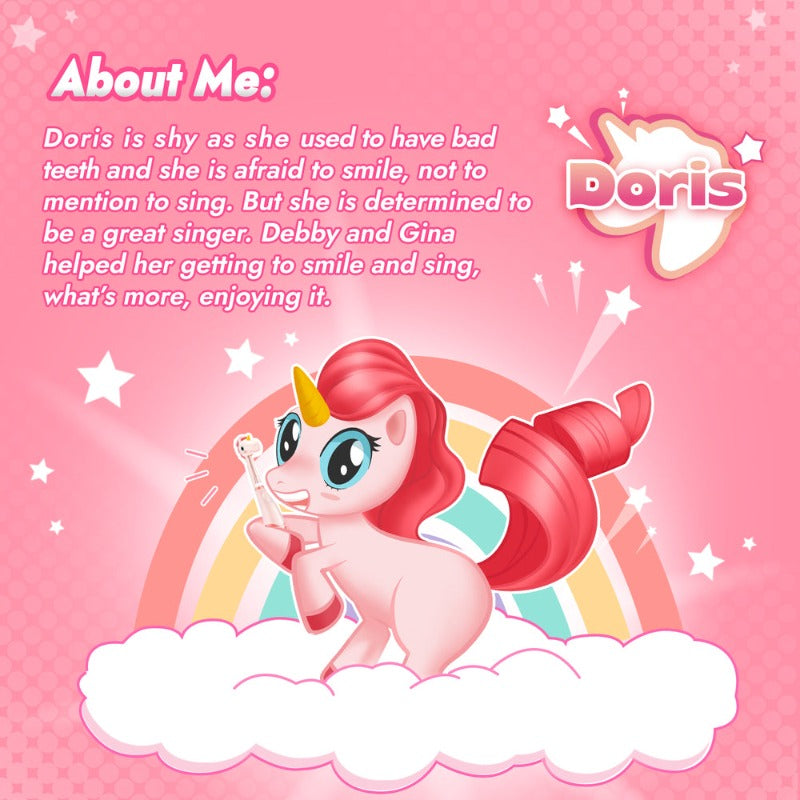 Doris Toddler Sonic Electric Toothbrush for Ages 1-3 Years
Featuring a cute dino design, the innovative toothbrush brings the unique and pure fantasy in children's imagination alive and makes brushing so much fun for your children.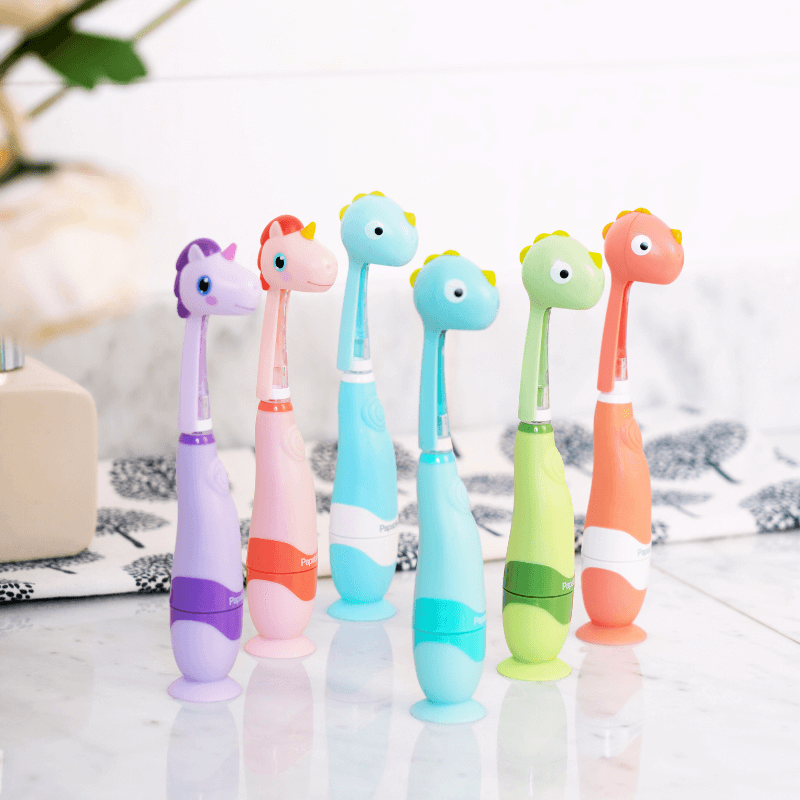 Papablic baby Sonic Electric toothbrush
Make Brushing Fun with Papablic
Papablic electric toothbrush has 18,000 delicate vibrations per minute that provide gentle and effective cleaning. Equipped with a 2-minute timer and 30-second pulse reminders, Papablic electric toothbrush reminds children to brush the next quadrant of the mouth and helps children develop good brushing habits.
Brush Head Cover: Keeps toothbrushes sanitary and dust-free, protecting your baby's mouth from unwanted germ.
Built-in LED light: Allows parents to see inside the baby's mouth. Its fantastic glows can catch baby's interest, so that kids will no longer be afraid of brushing their teeth.
Suction Cup: The bottom of the toothbrush is a suction cup for easy upright storage and prevents bathroom messes.
Ergonomically Design: Fit comfortably inside the palm of your children's hand with an easy grip.
Safety Guarantee: All Papablic toothbrush is certified to meet CPSC and CPSIA safety certifications. 100% BPA-free and safe for families.
🧑‍⚕️ Hear what the Pros think about Papablic Electric Toothbrushes
"This toothbrush has been a total game changer for me and my family! As a dentist, I have tried a lot of different toothbrushes with my kids and this one is by far my favorite. My kids are so excited to brush their teeth every day and I feel confident I am actually cleaning their teeth effectively. Thank you Papablic! "
"I'm thrilled to share proper brushing habits with diverse families using the Papablic toothbrush—the soft bristles, dance moves, and illuminating features make it a game-changer for parents keeping an eye on those back teeth!"
"Papablic toothbrushes have a creative design and a light to make brushing fun. I especially love the pulse vibration to prompt a child to change the brushing area in their mouth. Great toothbrush and I highly recommend it to all parents searching for one!"
" The Papablic sonic toothbrush does just that by providing gentle vibration with soft toothbrush bristles.After brushing my toddler's teeth with the Papablic Sonic toothbrush I feel accomplished as a mom and a dental hygienist that he has great oral hygiene. A must-have baby and toddler product!"
A Dental Student and Influencer
" The Papablic toothbrush has been part of our family since my son's first tooth came in and has made brushing an engaging, playful, and most importantly effective experience for our little one! We love that these brushes come in many cute designs, they light up and are also electric!"
Loved by over 200,000 families 💗
All of the Papablic products purchased in the US are fully warranted to our membership against defects in materials, construction and workmanship for the lifetime of the product.

If your product fails due to the above defect, we will repair it free of charge, or replace it, at our discretion. If the exact style is not available for replacement, a product of equal value and similar style will be provided.

Only items under normal use and following care instructions are covered. This warranty does not cover damage caused by accident, improper use, improper care, negligence, normal wear and tear, or unauthorized modifications or alterations.

Warranty requests must be made by the original purchaser and accompanied by proof of purchase.

If you would like to process a warranty or repair request, please contact our customer service viainfo@papablic.com.

Order over $25
| | | |
| --- | --- | --- |
| Shipping Method | Cost | Shipping Time |
| Standard Shipping |  FREE | 3 - 5 Business Days |
| Expedited Shipping | $6.99 | 2 - 4 Business Days |
Order under $25
| | | |
| --- | --- | --- |
| Shipping Method | Cost | Shipping Time |
| Standard Shipping |  $5.99 | 3 - 5 Business Days |
| Expedited Shipping | $12.99 | 2 - 4 Business Days |
Notes:
1)
Expedited
Shipping is not available for P.O. Boxes and APO/FPO addresses.
2) Shipping Time does not include a 1-3 day processing period required to process your order from the date your order is placed.
3) Delivery to remote areas may be delayed.
4) We will make every effort to deliver your package ASAP. However, additional time may be required due to invalid addresses and custom clearance issues.
5) Should your package not arrive within 21 days after you have placed your order, you must contact Customer Support within 180 days after your order was placed.